Eating the right foods can help you fall asleep, stay asleep, and wake feeling refreshed.
Four main vitamins and minerals that can be found in food that aid in promoting sleep:
1. Tryptophan
2. Magnesium
3. Calcium
4. B6.
Tryptophan is an amino acid that when ingested gets turned into the neurotransmitter serotonin and then converted into the hormone melatonin.
Foods with tryptophan:
Dairy products (cheese, milk, low-fat yogurt)
Poultry (chicken, turkey)
Seafood (salmon, sardines, shrimp, halibut, cod, tuna)
Nuts and seeds (almonds, walnuts, sunflower, pumpkin, flax, sesame, cashews, peanuts)
Legumes (black beans, split peas, chickpeas, lima beans, kidney beans)
Fruits (bananas, avocado, apples, peaches)
Vegetables (broccoli, seaweed, spinach, turnip greens, asparagus, onions)
Grains (oats, corn, barley, rice, wheat)
Magnesium
Magnesium is a natural relaxant that helps deactivate adrenaline. This mineral helps you fall and stay asleep. Sources of magnesium are:
Dark leafy greens (collard greens, kale, baby spinach)
Nuts and seeds (almonds, cashews, pecans, pine nuts, flaxseed, sunflower seeds, brazil nuts)
Wheat germ
Fish (salmon, tuna, mackerel, halibut)
Soybeans
Banana
Avocados
Low-fat yogurt
Calcium
Calcium is another mineral that helps the brain make melatonin. A lack of calcium can cause you to wake up in the middle of the night and have difficulty returning to sleep.
Sources of calcium include:
Dark leafy greens
Low-fat milk
Cheeses
Yogurt
Sardines
Fortified cereals
Soybeans
Fortified orange juice
Enriched breads and grains
Green snap peas
Okra
Broccoli
Vitamin B6
Vitamin B6 also helps convert tryptophan into melatonin. A deficiency in B6 has been linked with lowered serotonin levels, poor sleep, symptoms of depression and mood disorders which can lead to insomnia.
Highest sources of B6 are:
Sunflower seeds
Pistachio nuts
Flaxseed
Fish (salmon, tuna, halibut)
Meat (tuna, lean pork, lean beef, chicken)
Dried Prunes
Bananas
Avocado
Spinach

Melatonin
Many of the vitamins and minerals that are on this list are there because they help aid in the production of turning serotonin into melatonin.
Foods which naturally contain melatonin include:
Fruits and vegetables (grapes, tomatoes, olives, cucumber, tart cherries, corn, asparagus, pomegranate, broccoli)
Grains (barley, rice, rolled oats)
Nuts and Seeds (walnuts, flaxseed, sunflower seeds, mustard seeds, peanuts)

Figs
"Figs pack potassium, magnesium, calcium, and iron," says Jaclyn London, MS, RD, CDN, Nutrition Director at the Good Housekeeping Institute.
"These minerals help with blood flow and muscle contraction, which are key for falling asleep." Besides crushing your dessert craving, each fig also packs some additional fiber that'll keep you full.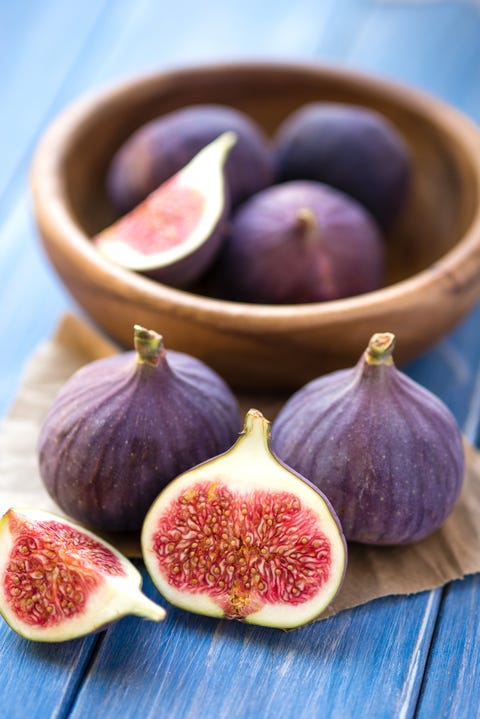 GETTY IMAGES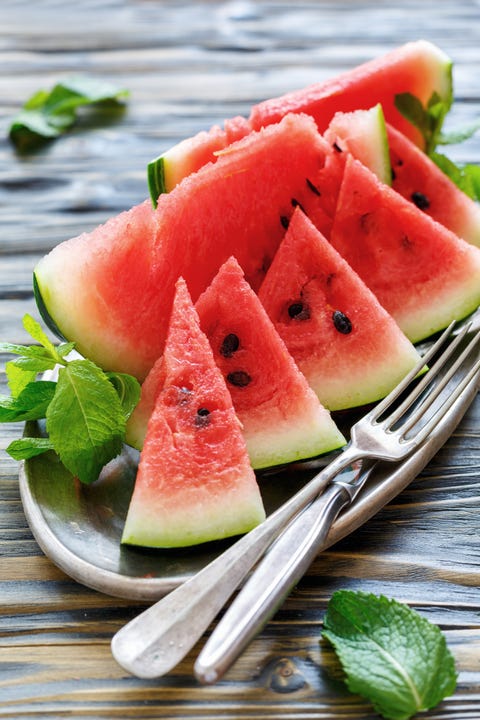 Watermelon
It's all in the name. Each 2-cup serving is half (you guessed it) water, which will hydrate you before bed and eliminate post-dinner hunger pains due to the fiber and volume.
Remember, not too much or you'll wake to use the rest room.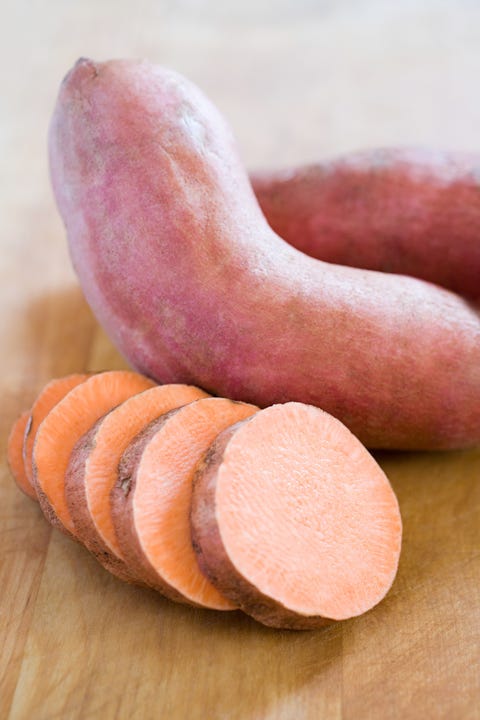 GETTY IMAGES
Sweet Potato Toast
Swap baked sweet potatoes for traditional nighttime toast, advises London.
"Sweet potatoes are great sources of potassium, magnesium, and calciumto help you relax," she says. Top with a drizzle of honey and pinch of sea salt, or a tablespoon of nut butter for a post-dinner treat.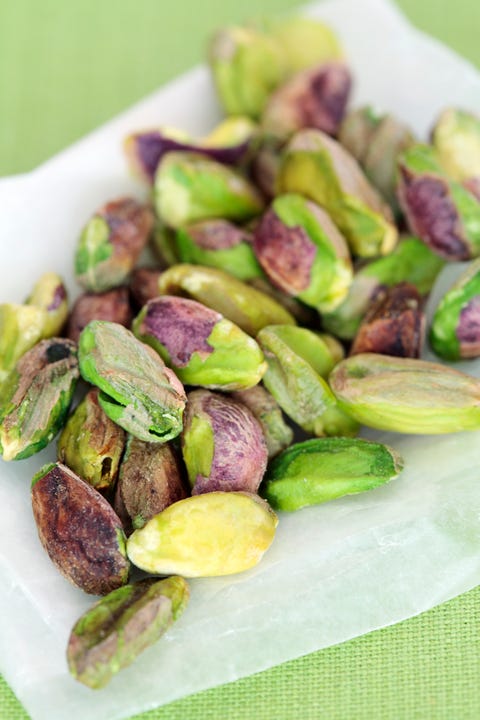 GETTY IMAGES
Pistachios
Pistachios hit the sleep-inducing jackpot, packing in protein, vitamin B6, and magnesium, all of which contribute to better sleep. Refrain from a shell-cracking frenzy, though.
"Don't exceed a 1-ounce portion of nuts," London warns. "Anything too high in calories can have the reverse effect of keeping you awake!"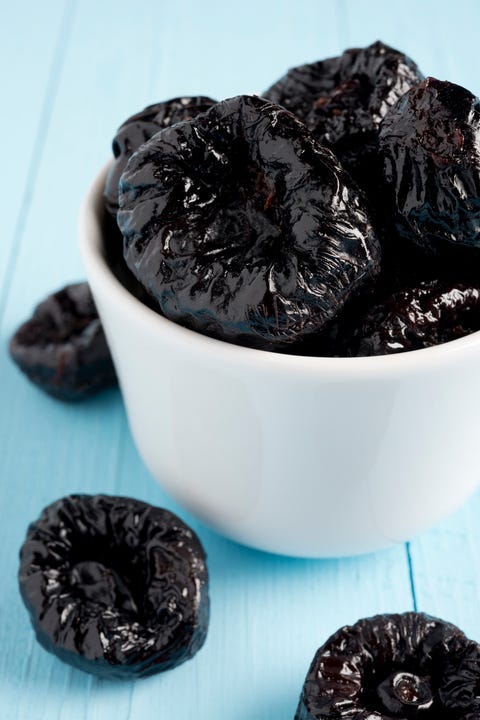 GETTY IMAGES
Prunes
The nutrients in dried plums — vitamin B6, calcium, and magnesium, to name a few — help make melatonin, the hormone that regulates sleep. Use prunes as a whole-grain toast topping, mix them into trail mix, or eat them on their own about 30 minutes before bedtime.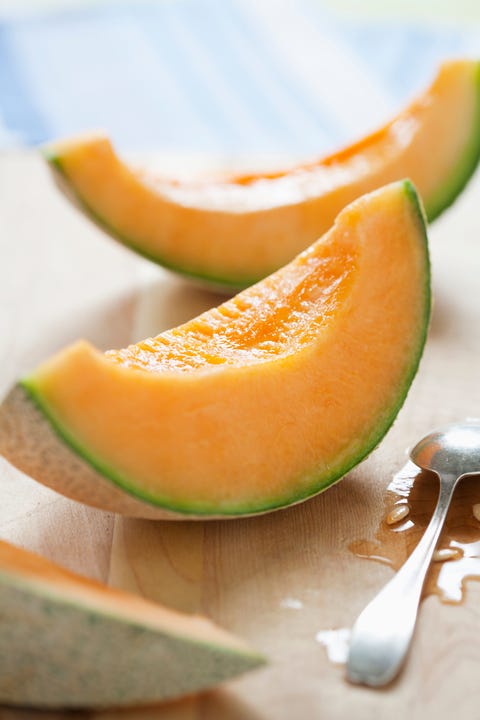 GETTY IMAGES
Canteloupe
Since dehydration can impact your ability to fall and stay asleep (not to mention your energy levels overall!), choosing watery fruits like melon can make up for any deficits.
London also recommends thirst-quenching apples, oranges, and pears.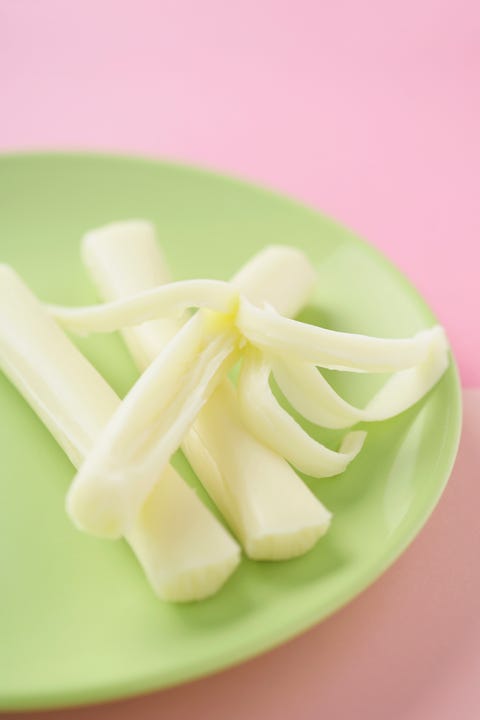 GETTY IMAGES
String Cheese
Still can't silence those stomach grumbles? Your kids' snack stash might come in handy. Part-skim mozzarella cheese (a.k.a. string cheese) provides a satisfying protein, especially if you pair it with whole grain crackers.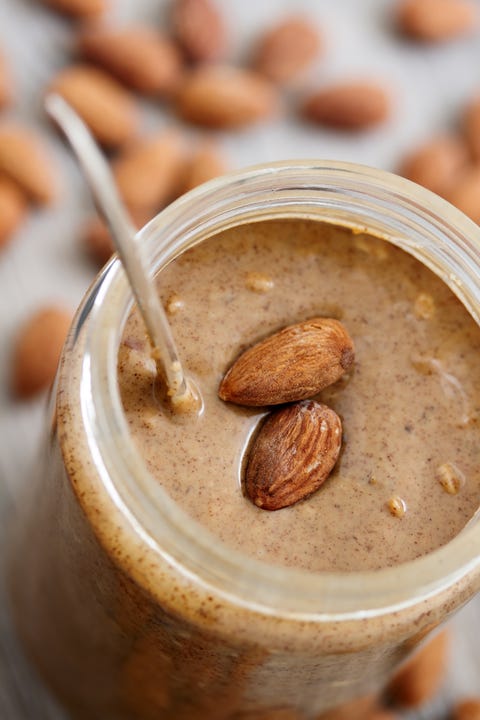 GETTY IMAGES
Nut Butter
Almond or peanut butter also pack in filling protein too. Spread it on graham crackers, a banana, or that sweet potato toast. Again, keep your dollop under a tablespoon so you're not feeling too stuffed before heading to bed.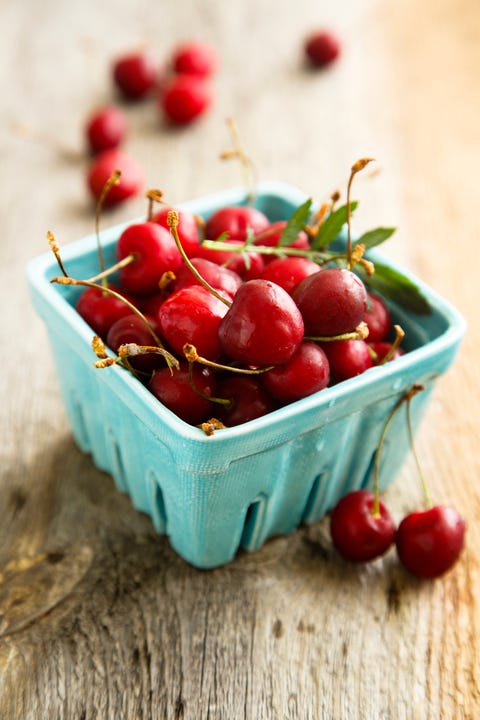 GETTY IMAGES
Cherries
The best way to get a good night's sleep is to increase your melatonin intake, recommends Michelle Dudash, a registered dietician.
Cherries, along with nuts and oats, are a natural source of melatonin. When eaten regularly, they can help regulate your sleep cycle.
And don't forget WEIGHTED BLANKETS! Click below for recommendations.
https://www.goodhousekeeping.com/home-products/blanket-reviews/a24734005/best-weighted-blankets

BE AWARE OF THE WORST FOODS AND BEVERAGES FOR A GOOD NIGHT'S SLEEP. THEY ARE:
Foods and drinks that contain caffeine
Spicy foods
Alcohol
Foods high in fat 
Foods high in protein
Foods containing water (you'll wake to use rest room)
Heavy meals before bedtime

Stick with the good list of foods and your sleep should improve. It's also best to shut down all electronic equipment and dim the lights one hour before you go to sleep.

The temperature should be a bit cool, and you can do some deep breathing once in bed. Close your eyes and empty your mind for worries. Instead, focus on at least 3 things you are grateful for or at least one thing you're happy you accomplished during the day.

A hot bath with soothing lavender epsom salt is also helpful. Unwind, relax and try to associate your bed with sleep. If you're prone to late night snacking choose foods from the list above. Otherwise, your body will busy digesting, and that could cause a restless night's sleep.
Sleep Well & Stay Healthy!  
blog contact: maria.dorfner@yahoo.com