"At it's core, it's designed to taste, look and crunch just like real junk food. The dream is if junk food could be more nutritious let's create it." -Nick Desai


Nick Desai, CEO, Snack It Forward, maker of PeaTos is revolutionizing the billion dollar snack food industry because Americans demand better junk food.
Oprah Winfrey and Gayle King have a favorite snack. BBQ potato chips.  Well, wait until they get a hold of PeaTos!
BOLD flavor without all the junk.
They must try Crunchy Curls PeaTos in Cheese!!
Turns out, Oprah and Gayle aren't the only people who love snacking.  94% of Americans snack.
Ha. Who are these other 6%?
77% of Millenials say they can't get through the day without snacking. Consumers have spoken.
"The goal was less junky junk food that's still flavorful and fun." -Nick Desai
Smart move as no one wants to stop snacking.
Instead, we want snack companies to create better junk food.
Nick Desai, CEO of PeaTos was inspired by the concept of "pea based salty snacks" during childhood visits to India…junk food style texture and BOLD flavors that are delicious, which makes it hard to believe it's plant-based, non-GMO without any of the harmful chemicals, like the toxic Yellow #6 dye used in one of the most popular snacks, proven to be a toxic chemical that causes hyperactivity, anxiety and other problems. We say Amen to that.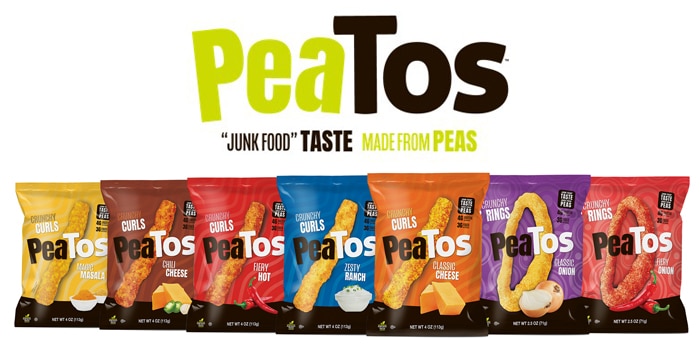 PeaTos is already the fasting growing better junk food with repeat customers, because like I said, they're delicious. If you're going to stock your pantry with better junk food, PeaTos is a winner.
"We launched in the Produce section. Kroger launched nationally and has been an amazing partner.  It's become the fasting growing snack in the produce section and #2 selling snack in California in our category. You can also find them on Amazon." -Nick Desai
PEAS JUMP TO THE NATIONAL SPOTLIGHT
Rich in protein and fiber
Soy-free
Gluten-free
Dairy-free
Naturally non-GMO
No known allergies
No synthetic colors
No artificial flavors
Reduces blood sugar
Improves digestive health
Peas are drought tolerant
Peas reduce the need for nitrogen
Ideal for crop rotation
Fertilize soil with rich nitrate growth
Prevent polluting runoff
Almost 800 new pea-related foods hit the shelves in 2018
Peas are packed with vitamins & minerals
Member of Plant-based Pulse foods, which include dry beans & lentils
Totally Vegan and Vegetarian
PeaTos are also lower in sodium, fat and calories, while retaining the yummy taste and texture of why we love crunchy snacks in the first place.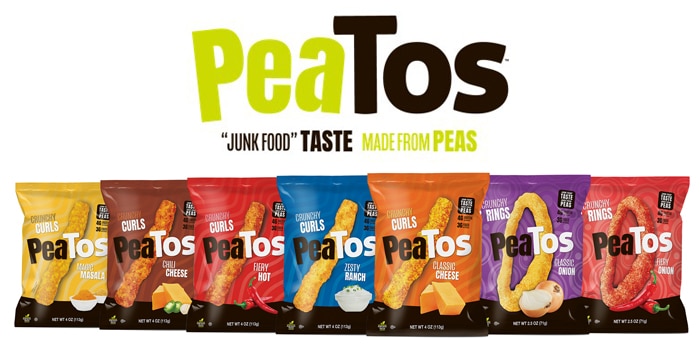 _____________________________________
Nick Desai, CEO, Snack It Forward
Nick Desai has been the chairman and CEO of Snack It Forward since 2013.
Snack It Forward is a better-for-you snacking company with a focus on plant-based snacks. The company has a portfolio of brands that includes World Peas and Sunkist Snacks.
The World Peas brand Peatos' mission is to help mainstream America eat better by creating snacks that taste like "junk food," but have more substance. Desai entered the food and consumer space in 2011 by leading the acquisition of Energy Club, a snack food manufacturer.
Before dedicating his career to the snack industry, Desai's experience spans an extensive background of over 25 years of operations, private equity/investment banking and law. Desai has a JD/MBA from Loyola Marymount University, and was a UC Regents Scholar at the University of California, Irvine. He currently lives in Los Angeles with his wife and four children.
1.
What are the best words of advice you've received?
"Once you make the sale, shut up." — My dad.
2.
What are your goals for the next 12 months?
We are on a mission to eliminate the compromise that has become prevalent in snacking: do I eat tasty or do I eat better? World Peas Brand Peatos does that and allows fans to get the full "junk snack" taste experience while still being full of plant-based protein, fiber and cleaner ingredients. Like many junk snack brands, I want Peatos to become a household name and the go-to snack for kids. We were fortunate to have Kroger as our initial national launch partner. They understood right away that Peatos belongs in the produce section. Consumers are embracing us via social media telling us how much they love Peatos due to their great taste, broad appeal and better-for-you positioning.
3. 
What do you do to relax?
I like movies and yoga, but in all honesty, I don't have much time for either these days.
4. 
What would you like to be your lasting legacy?
I want to build something that grows beyond any individual, like a lasting entity with brands that endures (which is exceedingly rare nowadays). What is today's Oreo, M&M'S or Doritos? I want to build something that will take on a life of its own. Maybe my kids get involved, maybe they don't, but at least there is something of value that is left behind and continues on. World Peas Brand Peatos is the snack that people have been waiting for. We dared to take on the big guy because we knew we were on to something. I want to be the man who helped the vast majority of Americans eat better, and not just the small percentage who is shopping in high-end natural channels.
5. 
What are the top three things on your bucket list?
1, Get a pilot's license. 2, Watch my kids become adults and prosper. 3, Celebrate my 90th B-day!
6. 
What work would you have pursued if you had not been in the fruit and vegetable industry?
I am kind of following my dream here so this is really it, but I also do love the entertainment business.
7. 
What is the one truth you've learned about the fruit and vegetable industry?
This is true for any business, but Steve Jobs said it best: "Stay hungry, stay foolish." I would add: never give up.
Courtesy: Food Processing

____________________________________
Related stories:
The Rise of the Pea: How an Unassuming Legume Emerged as a Frontrunner in the Race to Replace Meat and Dairy
Illustration by Gluekit for TIME
No one denies peas are nutritious. Whether they're delicious—that's debatable. But arguments over taste no longer matter because peas, specifically yellow peas, are being formulated into so many products, they're unavoidable, and often invisible.
As a crop, the pea has risen and fallen in favor, but today everyone seems to agree that it checks the box against the biggest problems plaguing the Earth: climate, food and health.
From a sustainability standpoint, peas, in the legume family, do everything wheat, corn and soy don't. They require less water, are drought tolerant, reduce the need for nitrogen fertilizers because they take nitrogen gas from the air and store it in their roots, and make an ideal candidate for crop rotation. Worried about GMO peas? They don't exist outside the lab. Want to avoid allergens? You're probably good there too; allergies are rare, another reason peas are leaving soy in their dust.
Mintel, the market research firm, reported that 757 new pea-related foods hit the shelves last year. That's in addition to what's already out there, including the most famous pea food, the Beyond burger. With one of the strongest first days of trading for an IPO in the last two decades, Beyond Meat is a prime example of our food system's new priority: plant protein. Much of the 20 grams of protein in each burger comes from peas, but some comes from rice and mung bean. "One goal of this innovation is to diversify protein sources," says Ethan Brown, the founder of Beyond Meat. "We believe it isn't a desirable consumer proposition to have pea protein as the sole protein across our product platforms." He's right. Who wants to eat the same thing everyday?
Almost any doctor will posit that a plant-based diet is healthier than one high in animal protein. They would also agree that eating a plate of peas is better than eating processed foods made from fractions of peas. Nevertheless, "there is an assumption in food science that we're going to break things into components. I guess it has become a part of our culture," says Liz Carlisle, author of The Lentil Underground. Understanding that the food industry has started to utilize plants as source material for multiple components is key to understanding the pea's newfound financial success.
Peas are easily broken down into building blocks of function: starch, fiber and protein. In China, home to many of the manufacturing plants that do this work, called fractionation, pea-protein isolate is widely thought of as the byproduct of the process. Pea starch is used to make noodles, and the leftover protein is shipped over to the US. McConnell's Fine Ice Creams makes five non-dairy flavors starring micronized pea protein; Ripple Foods has sold 7 million gallons of its non-dairy milk made with Ripptein, a proprietary protein made from yellow peas; and Annie's, one of the scant few utilizing organic peas, stashes it in its mac and cheese.
The United Nations named 2016 as the International Year of Pulses, which include peas, lentils, chickpeas and beans. That, says Tim McGreevy, CEO of USA Dry Pea and Lentil Council, helped kick off a "paradigm shift towards plant-based foods" in the U.S. "Up until five years ago the majority of our product was exported," says McGreevy. But now, the U.S. is getting on board with the rest of world, where highly adaptable pulses like peas, chickpeas and lentils are widely used across cultures.
The federal government is helping push the trend, as well. In the last two farm bills, the government authorized funding for the Pulse Crop Health Initiative, including almost $3 million in the last two years to the U.S. Department of Agriculture to finance proposals that will accelerate our knowledge of peas.
However, these efforts pale in comparison to Canada, which has $115 million (about 153 million Canadian dollars based on current conversion rates) earmarked for research into plant protein and plant-based products. Canada is also luring investors out to build processing facilities closer to its pulse crops, which are more than double what's planted in the US. Roquette, a French company, is spending $300 million (about 400 million Canadian dollars) on a pea-protein facility in Manitoba, and Verdient Foods, a pulse processing facility in Saskatchewan, largely invested in by married partners James Cameron, the film director, Suzy Amis Cameron, an environmental activist.
In addition, Canadian companies don't have to deal with the constant threat of retaliatory tariffs from places like China. "All of US agriculture has been hugely affected by the tariffs," says McGreevy. "We've been completely shut off of green and yellow peas, and the Canadians are taking full advantage of that." Because the U.S. is no longer a reliable supplier, McGreevy reports that his Chinese counterparts are looking towards the Baltic region of Europe to fill the gap.
In any case, peas are likely here to stay. "I don't see this as a trend that is going away as the world works towards meeting food demands globally," says Ron Kehrig, deputy director of investments for the Saskatchewan ministry of trade.
It's not only food manufacturers who see the beauty in peas. If science can make a more protein-packed legume, it could answer the looming question of how to feed our growing population. To that end, an international team is poised to release the entire genomic sequence of the pea, opening the tiny legume up for genetic studies. "It puts peas back where they belong," says Rebecca McGee, a plant breeder with the USDA's Agricultural Research Service, who worked on the project. "Of course, this comes from a pea breeder, so take it with a grain of salt." McGee is currently working on a related initiative called "MP3," which stands for "more protein, more peas, more profit." The goal is to find the genetic nature of protein concentration, which could then be modified to make a more powerful pea.
We're in a world that craves new and there's a line of plants waiting quietly behind the pea for their 15 minutes. In Canada, Kehrig reports his farmers are testing fava beans and canola seeds. From Brown and his team at Beyond Meat, we may soon get sausages made from lupin beans, or camelina, mustard and sunflower seeds. The message is clear and there's a not-too-distant future where our unsustainable reliance on animal protein is jettisoned for the almost limitless variety of our plant kingdom.
___________________________________________________
More Related Stories:
Do you love snacks? You're not alone. Here's why you eat more of them all day long.
Zlati Meyer
USA TODAY
The days of eating three large meals a day have gone the way of the butter churn.
Now, it's all about grazing from morning to night, and often relying on foods traditionally thought of as snacks to power through a busy day, according to new analysis by the research firm NPD Group. Americans ate an estimated 386 billion ready-to-eat snack foods last year, up from 356.4 billion in 2011.
A granola bar, dried cranberries and yogurt are often a meal for Shamika Johnson of Akron, Ohio, who also has protein snacks and almonds to get her through her daily to-do list.
"I work. I'm busy. Sometimes, it's easier to get snacks," said the 27-year-old masseuse. "Half the time, I don't have time to sit down for a meal. Combining a bunch of snacks gives me what I need nutritionally."
Whether you like chocolate bars, pretzels and dried fruits or string cheese, beef jerky and candy, here are four trend takeaways to munch on:
No candy for lunch, but …
Snacks are increasingly becoming part of Americans meals. We're not talking about crushed potato chips on top of a casserole or raisins tossed into a salad. Snacks are no longer just munchables for a mid-morning or mid-afternoon pick-me-up, but the building blocks of meals.
"There's a changed definition of what a meal is," said David Portalatin, NPD's national food and beverage analyst. "Today, I might have a piece of fruit and trail mix and call that lunch. In the past, we would've thought of that as exclusively snacks."
The blurred line between snacks and the traditional trio of breakfast, lunch and dinner impacts what Americans choose to munch on, too. He pointed to breakfast sandwiches eaten as snacks, despite the first word of the food's name.
More on Nick Desai, CEO, PeaTos
_____________________________________________
Snack It Forward CEO Discusses Peatos Brand
Nick Desai, CEO of Snack It Forward, visited the Livestream Studio at NOSH Live Winter 2018 to discuss his brand Peatos. Peatos is a peas and lentil-based snack that takes on the "junk-food" platform with a plant-based approach.
Desai discusses the mission of Peatos, distribution of the brand and how his childhood experiences influenced the approach to the plant-based snack.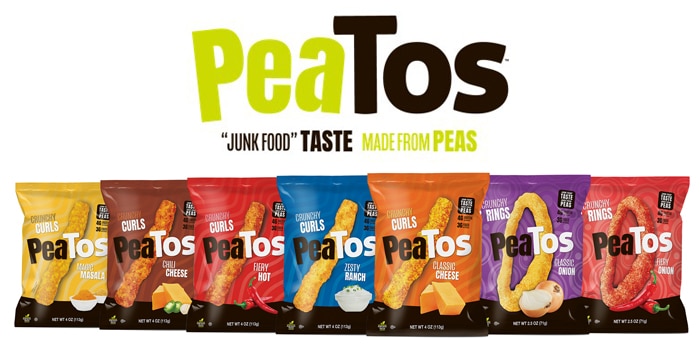 _________________________________________________________________________________________
PEATOS VARIETY PACK – GET ALL YOUR FLAVORS HERE!: All your favorites are here, Masala, Fiery Hot, Cheese and Chili Cheese. So Enjoy all of them without the guilt.
MADE FROM POWERFUL PLANT PROTEIN: Don't let these words fool you, nutrient-dense pulses are here to take the snacking crown. We combine the strength of powerhouse pulses— like yellow peas, and lentils— with all the bold, flavors you want from a snack. (It's just like "junk food," except we tossed out all the junk.)
130 CALORIES, Low Sodium, 4g Protein and 3g of Fiber – GOOD FOR YOU SNACK FOOD : We put everything good into Peatos. Only 130 calories, low sodium. These SuperFoods (Plant Proteins) pack a nutritional punch: non-GMO, gluten free, and sustainably grown, in addition to delivering vitamins and minerals.
NON-GMO, GLUTEN-FREE, NO MSG, VEGETARIAN AND NOT FRIED We use the finest Non-GMO ingredients to create the base of our snack. We stay away from artificial, man-made colors like Red 40 and Yellow 6. We keep it real with bold colors that come right from natural sources, like vegetables, real cheese, and spices!
TOTALLY VEGAN AND VEGETARIAN Yes, you can eat this! For all you vegans out there, Masala and Fiery Hot are vegan and Chili Cheese and Classic Cheese are not vegan but they are vegetarian, we thought of all you snackers out there.
Get PeaTos on Amazon!